MAGNETIC TRACK SERIES.
SPACE2 is a 48V low-Voltage powered magnetic track lighting system whereby various modular luminaires can be magnetically attached onto the track, which then can be flexibly positioned and interchanged at any time.
GOBO SERIES.
A series of track and wall mounted luminaires with adjustable beam and framing patterns mechanism that creates light in different sizes and shapes.
MINIATURE SERIES.
A range of small sized luminaires for specific applications such as cabinet light, step light, handrail light, inground light, etc.
PINHOLE DOWNLIGHT.
Luminaires with enhance glare control, light source is positioned a distance away from the opening of light exit aperture. Pinhole luminaires provide classy and elegant aesthetic to match the interior design, with "silent" ceiling and precise glare control.

SNOOT DOWNLIGHT.
A series of multi-axis adjustable down light designed to flexibly illuminate designated areas and objects.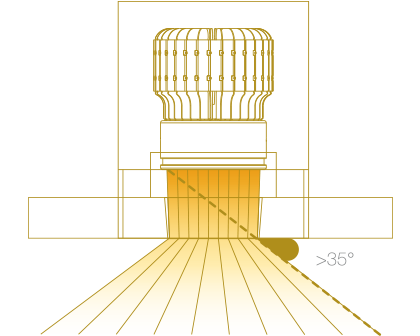 LINEAR DOWNLIGHT SERIES.
A modern aesthetic slim profile linear light fitting that fit in well with contemporary interior designing features. The double optical stages create uniform circular beam profile with minimal glare. Available from 4 to 24 watts with selections of CCT, CRI and dimming options.
SINGLE POINT SERIES.
An alternative form of ceiling mounted adjustable luminaires in various shapes, sizes and output to flexibly illuminate designated areas and objects.
SNOOP OUTDOOR SERIES.
A range of outdoor luminaires suitable for residential, commercial and retail applications.
LED MODULES SERIES.
ELR LED modules are available in different sizes with power ranging from 2W up to 56W, suitable for multiple applications of various ceiling height conditions with lumen output from 180lm up to 6500lm.